Welcoming some new artwork to the property
Petaluma's got a history it has proudly endeavored to preserve. Nowhere is that more evident than its picturesque downtown. The tradition is palpable. (It's worth noting this history and tradition– at least above-ground– has never embraced cannabis.) You'll find century-old buildings, numerous antique stores, wrought iron fences, quaint streetlights, and even a temperance fountain from 1891.
The final leg of the northward journey to Sonoma Hills Farm takes you through the heart of Petaluma. On the outskirts of town is a contemporary mural that stands in contrast to the austerity of the historical town center. This wall art always served as a warm welcome as we drove closer to the farm.
Maxfield Bala is a Bay Area muralist and native son of Petaluma. With over 40 murals under his belt, the 26-year-old has become a trusted artist for organizations, companies, and schools in San Francisco and beyond. We discovered more of his work throughout the North Bay, and realized our artisanal cannabis farm deserved some art of its own.
"We decided it was a good opportunity to have some signage for the farm," Bala shared during a break from painting. Just as his early mural welcomed us to Petaluma, the colorful signs at each end of Sonoma Hills Farm now welcome passersby: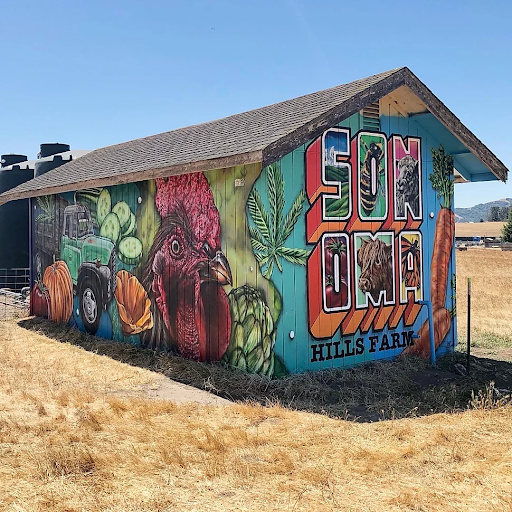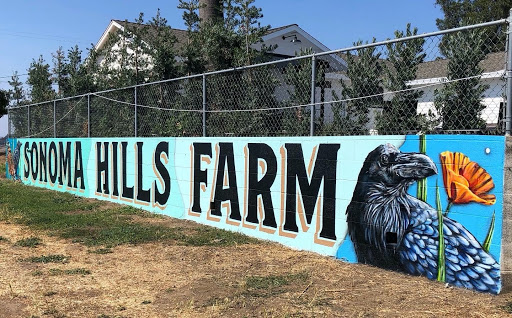 160+ years have passed since the founding of Petaluma and the arrival of legal cannabis to Sonoma County; many more will pass before the plant is truly welcomed. Nevertheless, we welcome the challenge of authoring this next chapter in Sonoma's history.